Bobbi Kristina Brown's Aunt Sparks War Of Words Over Niece's Care
Celebrity
| |
Advertisement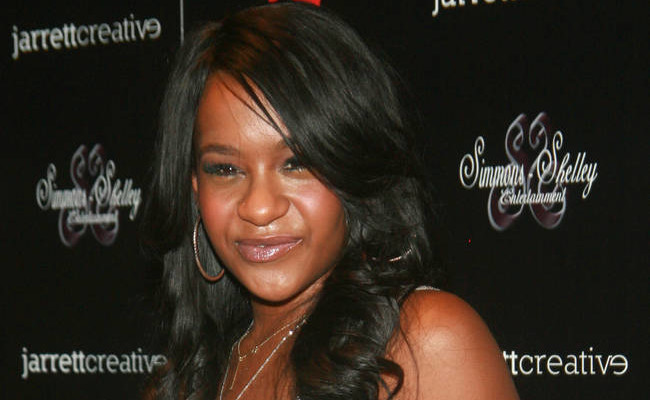 Leolah Brown, Bobby Brown's sister, claims Pat Houston – who shares legal guardianship of her niece with her father – allegedly told the New Edition star it was costing too much to keep his daughter alive in a Georgia hospital.
In her Facebook post on Tuesday, Leolah insisted her niece, who has been in hospital since a near-drowning incident at her home in January, is no longer on life support – but she is far from recovery.
She wrote, "The BIG lie has been told again that my niece Bobbi Kristina is going to be brought home… only to leave us. BOBBI KRISTINA BROWN IS 'NOT' ON LIFE SUPPORT ANYMORE… AND WE WILL NEVER GIVE UP ON HER! HELL NO! NOT ONE BROWN!
Advertisement
"(She is getting) the best care possible and she is indeed continuing to improve in-spite of the lies being told."
She then took aim at Pat Houston, Whitney Houston's sister-in-law, stating she "had the nerve to sarcastically say to my brother Bobby, 'Why don't he just pull the plug on Bobbi Kriss (sic), because it's costing too much money to keep her alive!'
"(Bobby said), 'I don't give a dam (sic) how much money it takes to keep my daughter alive! It's not about the money! I will do what I have to to keep my daughter alive!"
The Facebook post is the first family statement since Bobbi Kristina's grandmother Cissy Houston told one reporter last month that the 22 year old is "not progressing".
Leolah adds, "My God! If Whitney was here!. You (Pat Houston) would have been LONG GONE! Better yet, if Whitney was here, YOU WOULD NOT BE ANYWHERE NEAR HER ESTATE OR MY NIECE… Instead of trying to get control over my niece's money that her mother Whitney (who could not STAND the sight of you) left her (Bobbi Kriss), why don't you seek a profession on your own, Pat?
"If anyone could turn in their grave it would be Whitney Houston! Pat has NO RIGHT WHATSOEVER to be anywhere near my niece's Estate! Whitney would NEVER CONDONE OR AGREE to that! AND THAT'S A FACT! I KNOW THIS FOR SURE! And EVERY HOUSTON KNOWS THIS TO BE ABSOLUTELY TRUE AS WELL!"
She concluded the online rant by adding, "Yeah, I know Leolah sounds a bit harsh right now… and I should! I am my niece's REAL AUNT! I HAVE GENUINE LOVE FOR BOBBI KRISS-Just like I have love for Whitney AND MY BROTHER BOBBY!"
And she insists the Facebook post is just the beginning of her war on Pat Houston: "You called me out now! Y'all want to play games with my niece's life and think THE BROWNS are weak enough to allow it! You got Leolah way messed up! Stay tuned for my RADIO INTERVIEW where I will speak THE PLAIN TRUTH!!! This ain't nothing! There is so much more to come!!!"
Advertisement