Stars Celebrate Landmark U.S. Marriage Equality Ruling On Social Media
Advertisement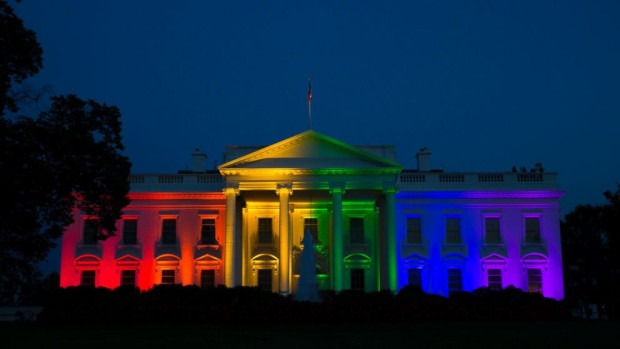 Supreme Court judges ruled 5-4 in favor of making same-sex marriage a legal right across all 50 U.S. states and the decision means no state authorities can ban gay unions in the future.
The landmark ruling was a cause for celebration on Friday, and One Direction star Styles was among the first to speak out, writing in a post on Twitter.com, "Huge day for America… Happy to see the news. All the love," while openly gay singer Sam Smith adds on Instagram.com, "All 50 states!!!! So happy. Times are changing my friends. We have such a long way to go and so much more fighting to do so I hope nobody stops and thinks everything's OK because it isn't, but it's days like today, and moments like this that we've all gotta have a drink and celebrate how far we have come (sic). I couldn't be prouder to be gay."
Advertisement
Huge day for America.. Happy to see the news. All the love

— Harry Styles. (@Harry_Styles) June 26, 2015
Gay icon Minnelli tells Usmagazine.com, "I have always said that everyone has the right to love who they love and today, with the historic decision from the Supreme Court, I am so happy it is now the law of the land."
Other celebrities took to social media to applaud the ruling, including gay actor Cumming, who writes, "Holy s**t SCOTUS (Supreme Court)!! What an amazing day and what a great step forward for America," while former 'N Sync star Bass, adds, "Supreme Court rules for marriage equality!!! Fourteenth Amendment requires a state to license a marriage between two people of the same sex… We are so proud to be American today! All of our #LGBT brothers and sisters can now love freely!"
Comedian Seth MacFarlane posts, "The Supreme Court legalized same-sex marriage in all 50 states today. It's about. f**king. time… Congratulations America for finally catching up to the modern era with this landmark step forward for gay and lesbian rights," while Anna Kendrick simply writes, "Today is beautiful" and Olivia Wilde added, "Proud to be American today".LG
Other celebrities tweeting about the ruling included Joe Jonas, Pete Wentz, Rose McGowan, Emmy Rossum, Kristin Chenoweth and Kim Kardashian.